Зайцев А. Опытное облучение ядерной эмульсии и твердотельных трековых детекторов в прошедшем сеансе. 09.03.2023. rus pdf

Новости, 30 декабря 2022, «Белые звезды» реконструируют в ОИЯИ методом ядерных фотоэмульсий rus | eng | http://www.jinr.ru/posts/white-stars-reconstructed-at-jinr-by-nuclear-photoemulsion-method/

ТВ УНИВЕРСИТЕТ ДУБНА. 16.06.2022

Зарубин П.И. "К 65-летию Синхрофазотрона. Судьба ускорителя." 15.04.2022 rus pdf

«Потенциал этой машины был колоссальным» Новости ОИЯИ, 16 апреля 2022.
15 апреля Лаборатория физики высоких энергий ОИЯИ отметила 65-ю годовщину
начала работы Синхрофазотрона. | html

П. И. Зарубин Судьба ускорителя. 29.05.1998. 45 лет с начала строительства синхрофазотрона. Газета "Дубна" rus pdf

51st meeting of the PAC for Nuclear Physics30-31.01.2020.pdf | https://indico.jinr.ru/event/1092/ | http://www.jinr.ru/jinr_structure-en/realisators-en/

video Zaicev Andrej diss_20190214_1 diss_20190214_1 wmv | Zaicev Andrej diss_20190214_2 mp4 | Zaicev Andrej diss_20190214_3 mp4

Zarubin_ISHEPP_2018 video wmv

Electronics description for KSM microscope upgrade doc

presentations 2018

Zarubin_BION_June-2016 pdf 9 Mb | Zarubin_BION_June-2016 ppt 65 Mb

Zarubin_LNF-2015_1612 ppt 434 Mb | pdf 16 Mb

Mamatkulov_K._EURORIB-15 ppt 1,6 mb | pdf 967 kb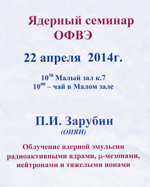 Gatchina 22.04.2014 http://www.pnpi.spb.ru/win/press/n14/n140505-1.htm | http://www.pnpi.spb.ru/win/press/news.htm

CERN Courier 2014 JanFeb | pdf Information about this meeting on p. 42 of CERN Courier

Stanoeva_Zarubin_Proekt_SWU_JINR_2013 zip doc rus

Workshop on Nuclear Track Emulsion and its Future. Predeal, Romania 14-18 October 2013

Predeal-2013 presentations

10-11.06.2013 Meeting for ANNIVERSARY OF Vera BRADNOVA
Perspective of the method of nuclear emulsions

26.02.2013 ЛТФ Зарубин П. И.
Seminar on Few-Body Systems at 11:00 in the BLTP II Floor Auditorium Pavel I. Zarubin (VBLHEP, JINR) New exposures of nuclear track emulsion: Implantation of 8He and alpha-breakups of 12C nuclei induced by 14 MeV neutrons http://theor.jinr.ru/Few-body/SEMINAR/2013/Zarubin-2013-02-26.pdf

25.02.2013 ИТЭФ

Веселовский И.С. Дмитрий Владимирович Скобельцын. Уроки из жизни ученого для молодых специалистов.К 120-летию со дня рождения Д.В. Скобельцына 19-20 ноября (2012) года. rus pdf http://nuclphys.sinp.msu.ru/nseminar/skobeltsyn.pdf

В конференц-зале ЛФВЭ (здание ОНМУ) 07.12.12 в 11-30 состоится лабораторный семинар по прилагаемым материалам.

Zarubin_PhS_011111

Zarubina, Irina: Imaging of Nuclear Fragmentation in Nuclear Track Emulsion zip 670 Mb

Zarubin, Pavel: "Tomography" of nuclear structure in dissociation of relativistic nuclei pdf 27 Mb | ppt 44 Mb

Zarubina docl_2011 pdf 5 Mb | zip 222 Mb

Zarubin_Strba_2011 pdf 15 Mb | ppt

Zarubin_PAC_NP_160611

14.07.2010 Cовещание cотрудничества БЕККЕРЕЛЬ

Zarubin_EXON09 ppt 18.7 Mb

Zarubin_ITEP09 ppt 13.8 Mb

Zarubin_NUSTAR09 ppt 17 Mb

Zarubina_EXON09/video zip 300 Mb

Peter_Shuck_EMIN_Moscow2009 pdf 4 Mb

Zarubin_OFVE08 ppt 43 Mb

Zarubin_ITEP08 ppt 41 Mb

Zarubin_INR08 ppt 40 Mb

Zarubin_PAC08 ppt 15 Mb

Schedrina14_05_2008_seminar_LPhHE pdf 2.3 Mb | ppt 7.4 Mb

Zarubin_MGU08 ppt 30 Mb

Zarubin_NTS08 ppt 9.5 Mb | pdf 3.5 Mb

Zarubin_LHE08 ppt 10 Mb | pdf 3.8 Mb

Zarubin_LHE08_NEORYAF ppt 9 Mb | pdf 2.9 Mb

Seminar_20.02.08 (Проект Беккерель-С)

Artemenkov_Kiev_Voronezezh_07 pdf

Zarubin_ITEF07

Rukojatkin ISHEPP18 ppt 900 Kb

Zarubin_ITEP06_I ppt 50 Mb

Zarubin_IHEP_Oct06 ppt 41 Mb

Zarubin_IHEP_06 rus ppt 52 Mb

Zarubin_WS ppt

Zarubin_B8 ppt

Artemenkov_RNP_sk ppt

Рабочее совещание «Исследование фрагментации релятивистских ядер методом ядерных фотоэмульсий. Сотрудничество БЕККЕРЕЛЬ».Посвящается 90-летию со дня рождения проф. К. Д. Толстова (21.07.15-03.09.93). 4-5 октября 2005 г.

Рабочее совещание «Исследование фрагментации релятивистских ядер методом ядерных фотоэмульсий. Сотрудничество БЕККЕРЕЛЬ» 30 ноября - 01 декабря 2004 г.

Mariaslides

nts-draft1

Zarubin_b04

Zarubin_FB19

Zarubin_ITEP05

Zarubin_NPA2

Zarubin_PAC04

Zarubin_ICHEPP06

Zarubin_Praha

Zarubin_PAC05

Zarubin_rnp_05

Zarubin_RNPI

Zarubin_Tolstov_90

Zarubin_Yalta

Centrality Determination Reviewed by P. Zarubin MIT 8-9 February 2002 6th CMS Heavy Ion Meeting pdf